What is this Prop 65 Warning I see on the packaging?
Prop 65 (Proposition 65) is the California Safe Drinking Water and Toxic Enforcement Act of 1986. This mandate states that the manufacturer must include a warning when certain regulated materials (including minute traces of lead) are present in products sold in the state of California. Since some hose products utilize recycled materials, Flexon is required to include this warning on the product packaging to be fully compliant with Prop 65 guidelines.
Flexon always highly recommends running clean water through your hose to flush out any stagnant water that may be in the hose.
What is the best way to start using my hose?
Please follow these step by step instructions and tips to help prolong the life of your hose. 

I love the Guard-N-Grip, tell me more about it?
The Guard-N-Grip connector is available on numerous Flexon hoses. It features an ergonomically designed, slip resistant handle which allows the whole hand to turn the hose onto the faucet. The Guard-N-Grip also protects the female fitting from being crushed and provides a wrench free, leak proof connection. Best of all, the Guard-N-Grip connector is endorsed by the Arthritis Foundation for its 'ease of use'.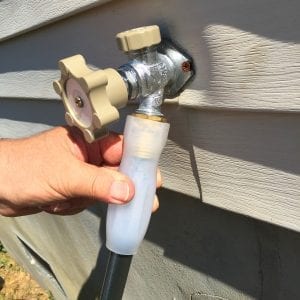 Soaker Hose Instruction Sheet