Proud to Manufacture in the U.S.
A family business founded in 1956, Flexon Industries has long set the standard for manufacturing quality garden hoses that homeowners and contractors rely on. Flexon is here when you need us.
We offer landscape professionals, consumers, retailer partners and distributors consistent quality, product innovation, outstanding customer service and value.
Flexon delivers quality… on demand and on time.
Flexon's delivery times and flexibility are unmatched because most our products are manufactured on American soil. This means we do not encounter many of the challenges that other hose companies face today, such as delays due to overseas manufacturing, shipping issues and high tariffs.  
Flexon owns and operates manufacturing facilities in Newark, New Jersey and Anderson, South Carolina. Our operations adhere to good manufacturing practice (GMP) standards, the highest in the industry. Flexon hoses are made of high-quality materials designed to consistently perform. By design, many of our hoses contain recycled and recyclable materials. With Flexon, you're not just taking care of your lawn and garden, you're taking care of the environment.
Unparalleled Service
We provide the highest level of retailer and distributor support to ensure consumers get the products and service they deserve. Every Flexon team member is engaged in our vision to produce quality products and deliver unmatched value and customer satisfaction.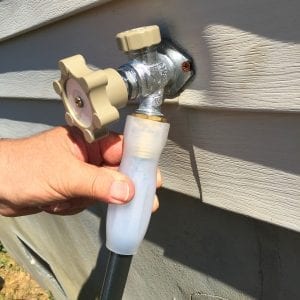 U.S. WIRE & CABLE CORPORATION'S FAMILY OF COMPANIES
U.S. Wire & Cable Corporation encompasses three industry-leading divisions in the garden hose, power cord and industrial lighting sectors: Flexon Industries, U.S. Wire & Cable and Voltec Power & Lighting. Together, our companies and brands bring decades of unmatched innovation, experience, value and service to retail partners, distributors and consumers. U.S. Wire & Cable Corporation owns and operates two manufacturing facilities and six distribution centers in the United States, with supplemental offshore production capabilities.
For more than 60 years, Flexon Industries has set the standard for manufacturing quality garden hoses for professional and home lawn and garden care. Based in Newark, New Jersey, Flexon is a family-owned and operated company that manufactures products domestically, giving it a competitive advantage over companies that source products overseas.
Voltec Power & Lighting joined the U.S. Wire & Cable team in 2016. Voltec is known for its proud heritage, new product development and dedication to the service. Together, Voltec and U.S. Wire & Cable deliver customers a robust offering of power cords, task lighting and power distribution systems. The Voltec brand is dedicated to servicing and growing its Electrical and Construction channels.
Due to the company's commitment to consistent quality, product innovation and unwavering customer service. All three divisions enjoy longstanding relationships with customers.